Volunteer Today!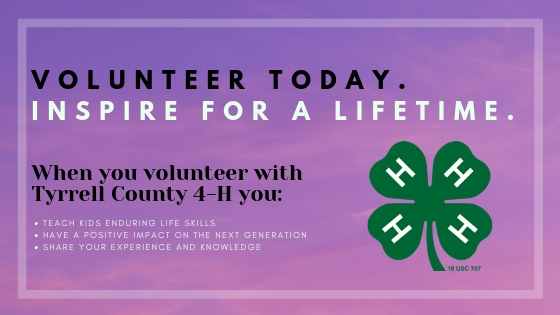 Do you have a special skill to share? Are you interested in working with youth? Or are you just looking to make a difference?
Tyrrell County 4-H might just be the place for you! We are looking for Volunteers to Lead our Clubs throughout the school year.
Volunteer Meeting Tuesday, September 10, 2019, 6 p.m. at the N.C. Cooperative Extension of Tyrell County office. RSVP to Lauren Nelson by September 6.
***THIS MEETING IS RESCHEDULED FOR TUESDAY, SEPT. 17TH, 6:30 p.m., AT THE EXTENSION OFFICE***
First you may want to know…what is a 4-H? And what do they do in these clubs?
4-H is the largest youth organization in the United States with more than 7 million participants. 4-H is best identified by its green four-leaf clover with an H on each leaf. The four H's on the emblem stand for Head, Heart, Hands, and Health. In 4-H you get to "Learn by Doing" and meet new friends that share your interests. You can participate in projects where you make something, develop a skill, raise and/or train an animal, join a virtual club with kids from anywhere in the world!
4-H Clubs are a great way to supports long-term youth development and build community amongst our youth, while instilling essential life skills such as leadership, commitment, and nurturing relationship. Whether they are working together on projects in Science & Technology, or focusing their club efforts on environmental awareness, 4-H Club youth learn the importance of becoming engaged in the community, country, and world.
We offer two types of clubs in Tyrrell County: SPIN Clubs, which are 6-week Special Interest clubs that focus on a particular topic (STEM, Electric, Showmanship); and Traditional once a month clubs that encompasses a broader spectrum (Leadership, citizenship, community service).
What we are looking for…
We are looking for enthusiastic volunteers to work with youth ages 5-18 (ages grouped depending on club focus). Volunteers must be at least 21 years old and pass a background check. Volunteers will be trained before the start of their clubs and all materials will be provided.
Some club focuses we would like to offer this year: Electric, Etiquette, Cooking, and Junior Master Gardeners. Curriculum will be provided for each of these. If you these don't interest you don't worry! We have curriculum for just about everything!
If you are interested in becoming a 4-H Leader please contact Lauren Nelson, 4-H Agent, at 796-1581 or lauren_nelson@ncsu.edu. We will hold a Volunteer Meeting on Tuesday, September 10, at 6 p.m. at the N.C. Cooperative Extension of Tyrell County office. Please RSVP to Lauren Nelson by September 6.